Cereal Bars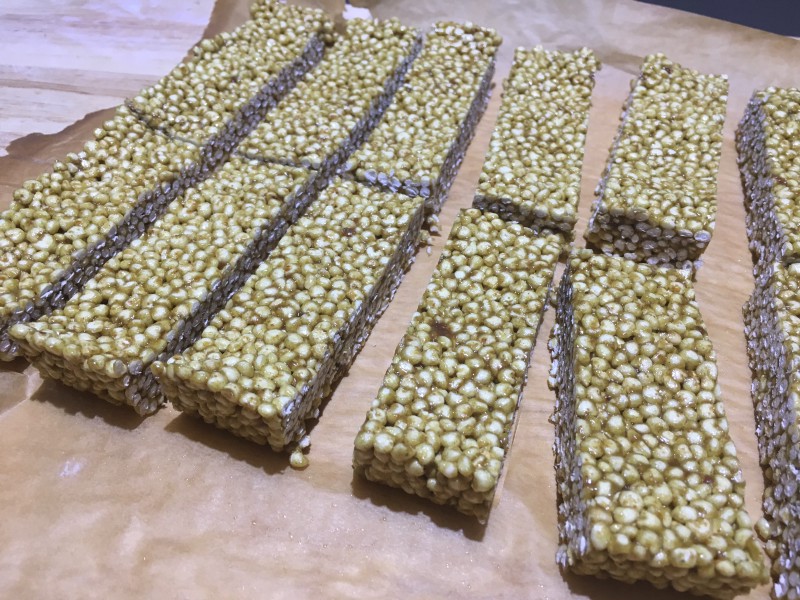 If you are doing a plant-based diet, it's important to get your protein. Millet is a full protein grain, and having it puffed makes it easier to digest then the hydrated version as some starches are broken down by dehydration.

My son loves his cereal bars and I need to make him some more and get a good glam shot of them, as we go through them fairly quick. It's a nice feeling to not have to guard the treats, because they are all very good for you. That's a nice upside to having digestive issues. Lol.
Ingredients:
4 cups puffed cereal (quinoa/millet/rice, depending on your allergies and intolerances)
1/2 cup pumpkin seed butter
1/2 cup maple syrup
Directions:
In a small pot, boil the pumpkin seed butter and maple syrup for 3 minutes, stirring every 20 seconds until the mixture starts to thicken and 'cracks'.
In a medium bowl, put 3 cups of your chosen puff. Mix in the sauce and add the additional 1 cup of left over puff until they're evenly lightly coated.
Squish into a parchment lined 12x12 pan and put in the fridge for an hour. Cut into bars or however you'd like.
Notes:
Buy the puffed millet and quinoa. I tried making this at home and it doesn't work. I couldn't find any in stores, but found a lot online. You can sub out agave for the maple syrup or any other butter/nut butter for pumpkin seed if you don't care about school safe or don't have issues with sunflower butter.
Show Comments [0]