Chocolate coconut bites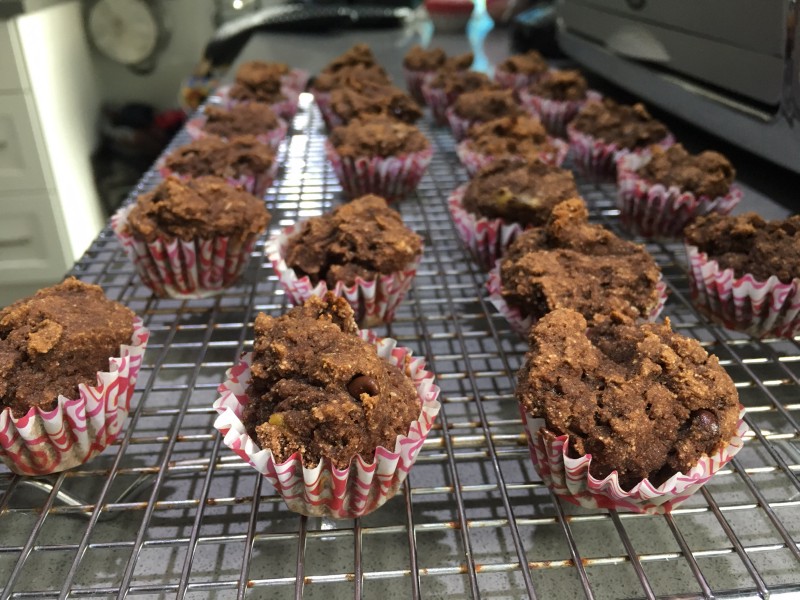 With limited ingredients, it's important to have a variety of textures as well as flavours in your pantry. I love these coconut bites because they are more dense than a muffin and more chewy than a cookie. Also they give you a lot of chocolate flavour without a lot of sweetness.
Ingredients:
2 bananas, medium sized and ripe
2 tbsp coconut oil
1/2 cup coconut sugar
6 tbsp aquafaba
1/2 cup coconut milk
1/2 cup water
1 cup coconut flour
2 tsp baking powder
1/3 cup cocoa powder
3/4 tsp xanthan gum
1/3 cup chocolate chips
Directions:
Heat oven to 375F.
Combine dry ingredients and mix until even. Combine wet ingredients in a bowl and beat until even.
Mix the wet with the dry until combined and add the chocolate chips. Dairy and sugar free chocolate chips exist!
Fill muffin cups to the top of the paper. These rise but not a lot. If you do tiny muffins cups (which we do), bake for 20 minutes.
If you do larger muffin cups, bake for 30–35 minutes. Let rest to cool on a baking rack.
Notes:
Aquafaba can be substituted with eggs, or other starchy egg replacers. 3 tbsp of aquafaba is basically one egg. Depending on your egg substitute you may need to prepare your 'eggs' separately. Lots of egg replacers use potato or corn starch, so if you have issues with those, be sure to read labels.
Storage Notes:
These freeze really well. Keep in the fridge if you plan on eating within a week.
Show Comments [0]